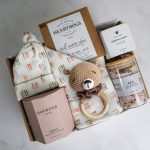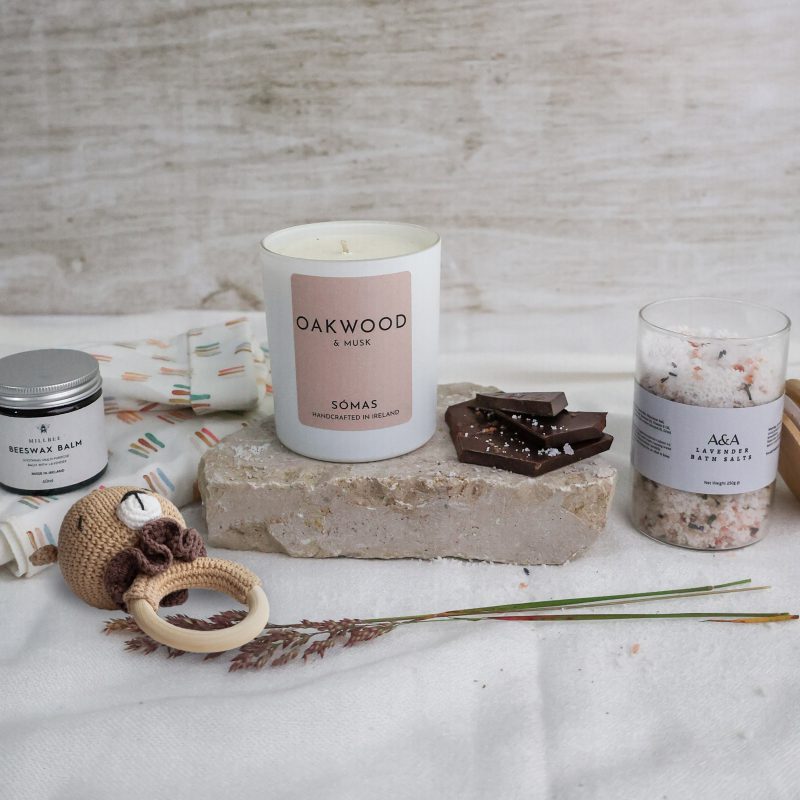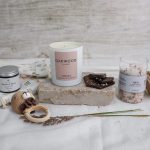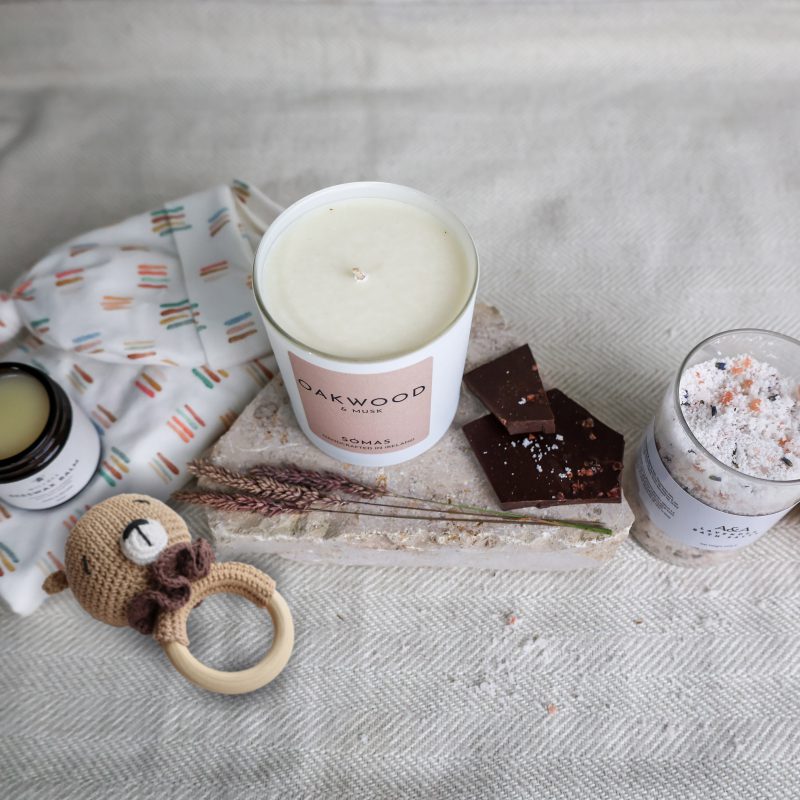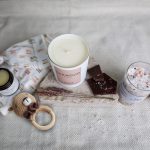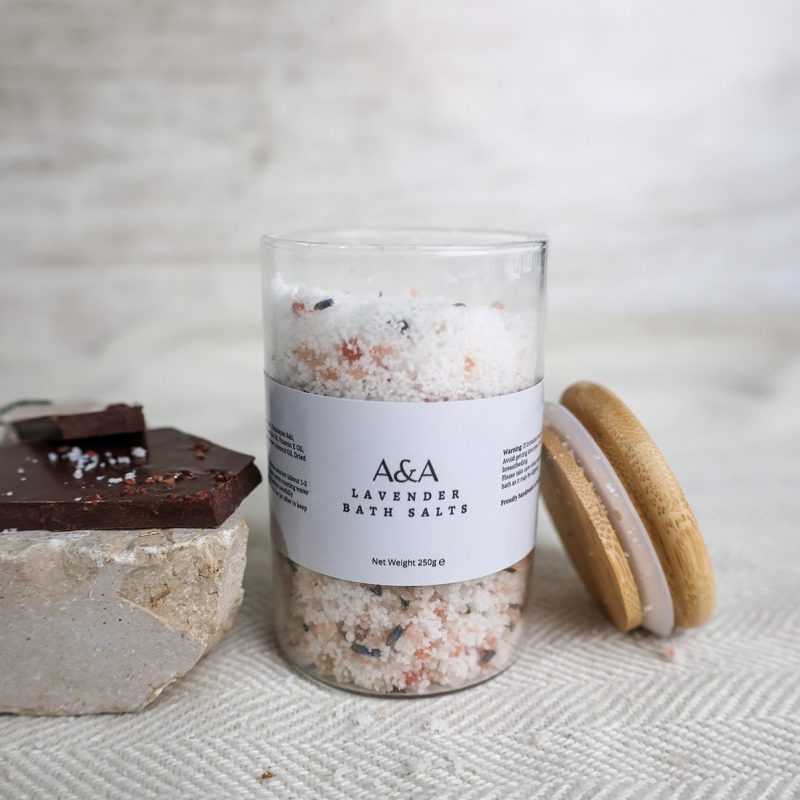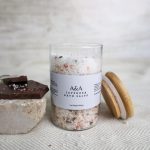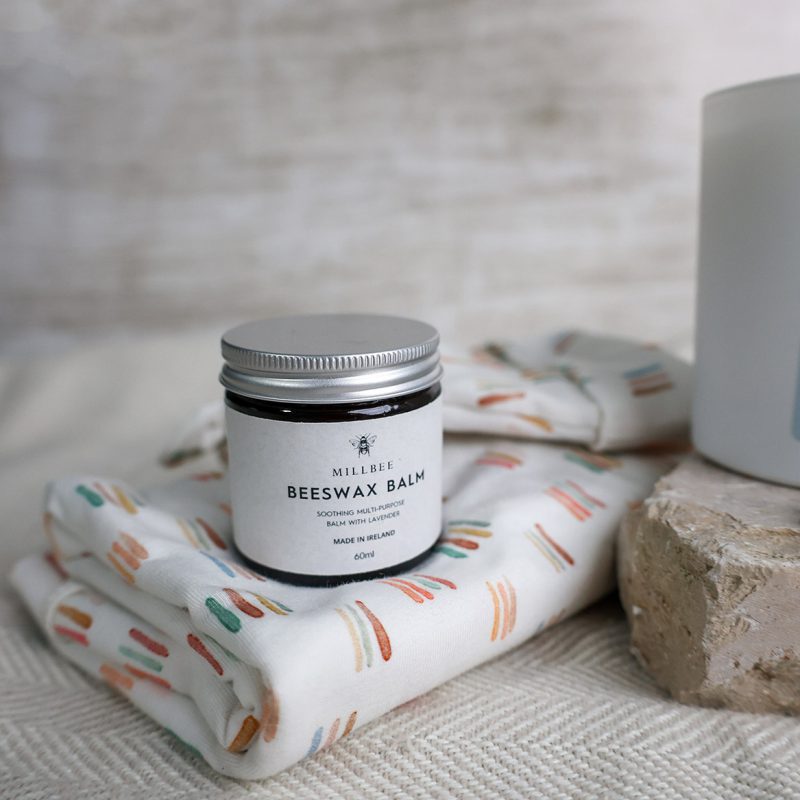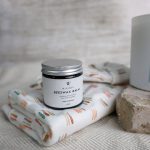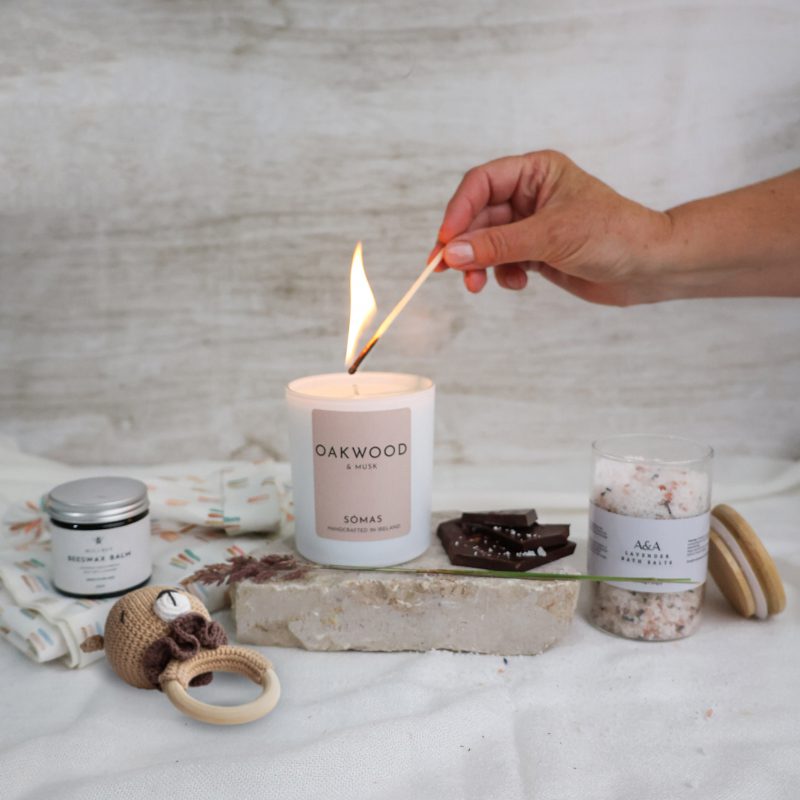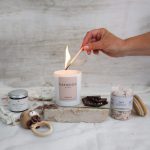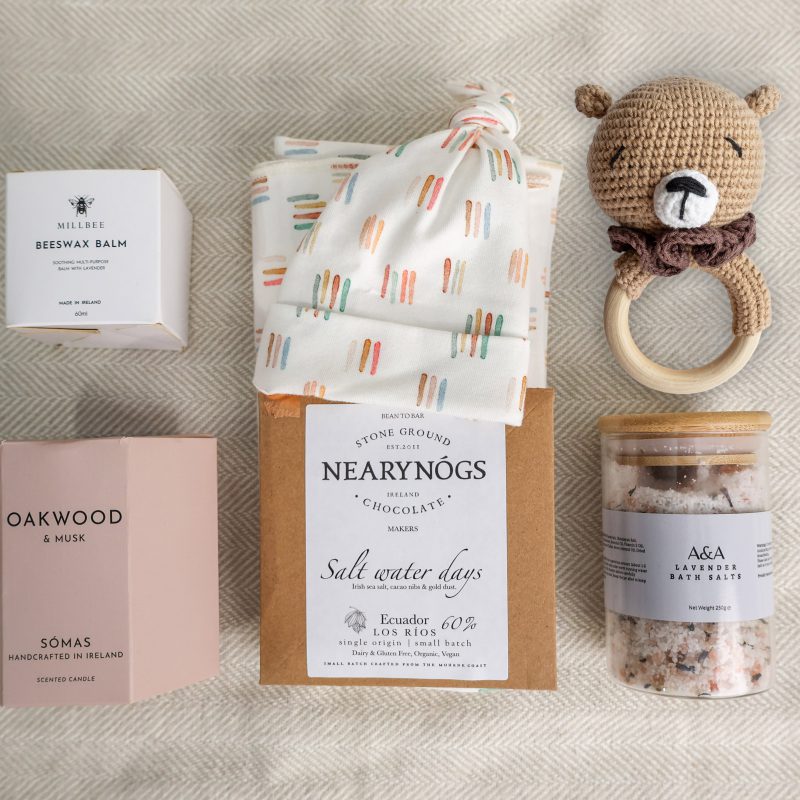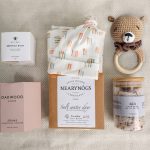 Mum and Baby Girl Luxe
€140.00 inc. VAT
Gently welcome baby to the world whilst treating mum to a moment of calming relaxation. 
Say Hello Swaddle Set
Handmade in Wexford by the very talented Emily Stewart these beautiful soft Cotton swaddle sets are the perfect present for any newborn. Swaddle set includes Swaddle Blanket, Hat & Bow.
Somas  – Oakwood & Musk Candle
Somas is an Irish word directly translating to 'Ease' or 'Comfort'.  All products are hand-poured with love by Margaret in Co. Cork.  Inspired by the Legends of St Gobnait the packaging is designed to resemble a honeycomb which is believed to bring joy, good luck and new life. 
Oakwood & Musk Scented Soy Candle with notes of cologne, musk and a hint of cognac, Oakwood and Musk is an irresistible scent guaranteed to bring warmth and ambience to your space.
AA Lavender Bath Salts
Lavender Bath Salts handmade with cosmetic grade Epsom salt, Himalayan salt, Vitamin E oil, Sweet Almond Oil, Lavender essential oil and Magnesium flakes.  100% natural and vegan curated by Andreea in Dublin.
Millbee Beeswax Balm
Jennifer has always been passionate about design, craft, nature and sustainability. Millbee combines all her passions.  As a mother with two young kids and she wanted to create something meaningful and to consider the impact it has on her kid's future. Being a sustainable brand is important to Jennifer.
Soothing multi-purpose Beeswax Balm made with organic lavender, this multipurpose soothing balm is perfect for Baby's skin and Mums body and hands.  It softens and hydrates the skin and has natural organic ingredients that are kind to the skin and super nourishing.
Little Buddies Teething Ring
Dreamy Teddy Bear Teething Ring.  A Crochet piece made by the very talented Renata in Drogheda who learned to crochet when she was 8 and has developed her business making cute Little Buddies.
NearyNógs Saltwater Days
NearyNógs is a family business, established in 2011, originally as a fund-raiser for their eldest daughter travelling to India to do charitable work with orphans. Chocolate became a passion and a resource.  Shortly after, a younger daughter became life-threateningly ill and needed urgent medical treatment in Great Ormond Street Hospital London.  This resulted in the formation of the family business to provide income and flexibility. Northern Ireland's first bean to bar craft chocolate makers and also one of the oldest in Ireland. NearyNógs chocolate is small-batch crafted on the Mourne Coast.
Salt Water Days has Irish sea salt, crushed cacao nibs & gold dust which complement this gentle 60% Ecuador Los Ríos chocolate. 
10 in stock