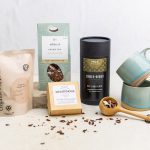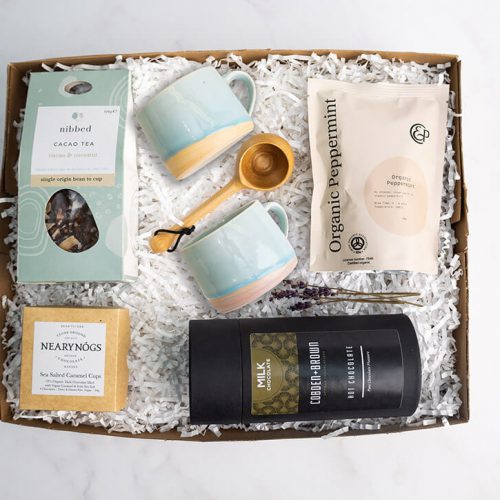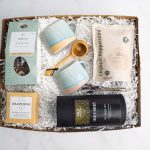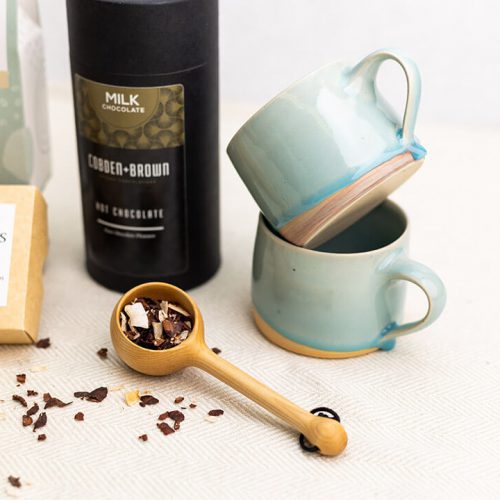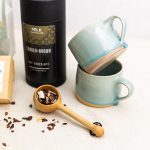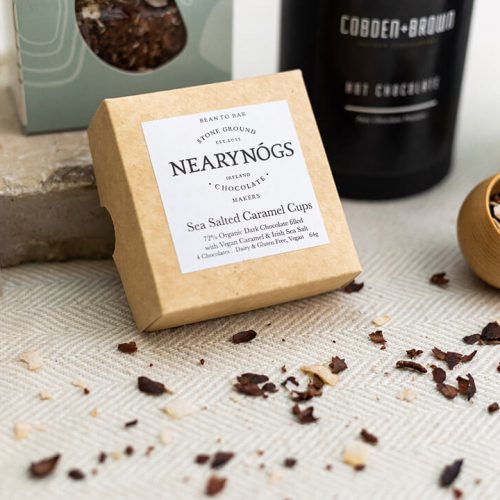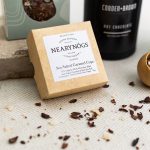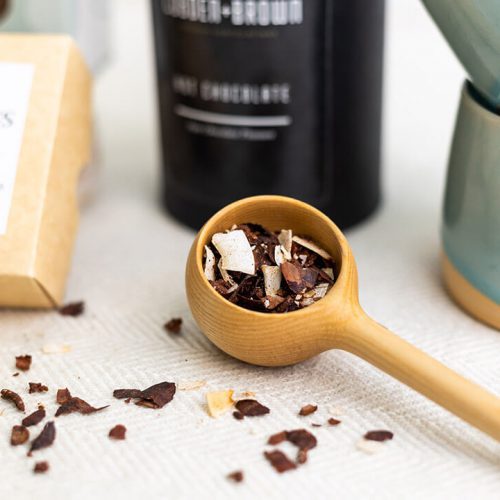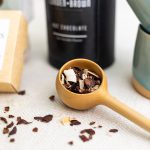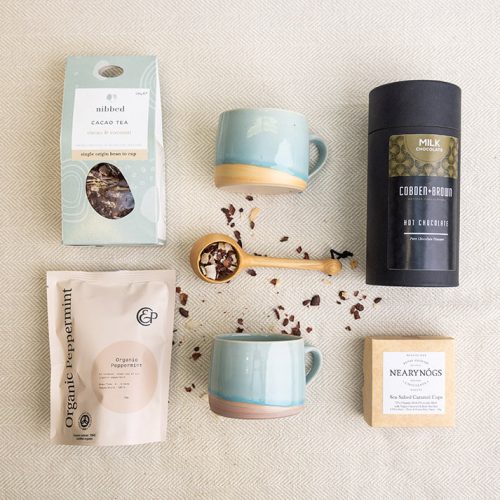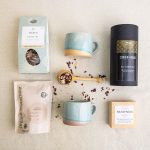 Tea and Chocolate
€110.00 inc. VAT
An indulgent gift box to treat that someone special to a few moments of downtime.
Nibbed Cocao Tea
Indulge your tastebuds with the nourishing goodness of the finest organic, bittersweet cacao and coconut. Developed in lockdown by Aunt/Niece duo Lisa and Anna – Nibbed is the Irish purveyor of cacao goodness you can count on.
Cobden + Brown Hot Chocolate
Caroline's sons' diagnosis with Coeliac Disease and an egg intolerance proved to be the real inspiration for Cobden + Browns ethos. Luxuriously smooth rich hot chocolate, warm and indulging.
Clement & Pekoe Peppermint Tea
A refreshing cup of pure organic peppermint tea. Clement & Pekoe are the purveyors of the finest loose tea.
Antonio Lopez Stoneware Mugs
Beautiful stoneware mugs, your drinks are covered. Antonio, A ceramist based at the foothills of the Ballyhoura mountains in Cork. His work in stoneware and porcelain is to behold.
Neary Nogs Sea Salted Caramel Cups
Consciously made, Neary Nogs is Northern Irelands first Bean to Bar craft chocolate makers in Co. Down. A distinctive blend of 72% Organic Dark Chocolate filled with Vegan Caramel and Irish Sea Salt.
Eoghan Leadbetter Spoon
An essential to your tea and chocolate ritual. Handcrafted from local and ethically sourced wind felled trees. This smart design is the perfect companion for measuring your morning coffee. Based in Kilkenny, having grown up in the family-run Jerpoint Glass Studio, one of Irelands iconic designer-makers, Eoghan's passion is woodturning.
Out of stock